Services
Top Quality Care
Every guest staying with us receives individual care and attention as prescribed by you. Giving your cat a very much home from home experience.
Menu Choices
We stock a wide range pf popular wet and dry foods. Our guests also enjoy home cooked fresh chicken and fish. Fresh water is always available. Meal times are kept as close to your home routine as possible to help your cat settle in happily.
If you cat has any special dietary requirements, please don't hesitate to get in contact to discuss. Unfortunately, we do not stock vet prescription diets so ask that you bring this with you should your cat require it.
Home Comforts
We want your cat to feel at home and settle in right away. As such, all your cat's home comforts are provided in their stay; Warm and cosy beds, a choice of litter substrate, toys and all important environmental enrichment (including light background music) with lots of fuss and attention.
If your cat has a favourite toy and/or blanket, please feel free to bring these along.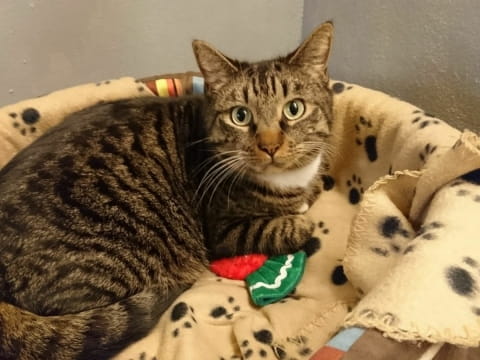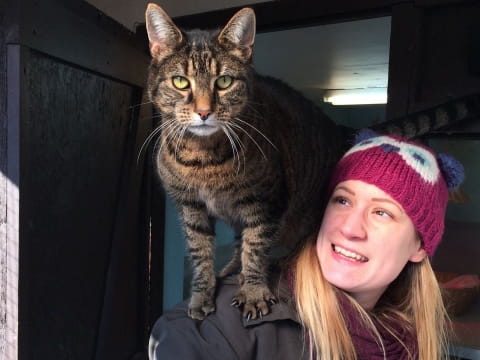 Your Cat's Health
We have trusted Vets on call and will call or consult them should we deem necessary. During your cat's fuss and play sessions they will receive daily health and welfare checks by our experienced staff. We will be looking for bright eyes, alertness and awareness, check all claws are retracting, and if they have eaten their food and used their litter trays.
We do not charge for the administration of medication, though do ask that your cat is in good health before they board with us. We welcome young and elderly cats, diabetics and those who have disabilities.
Our units (inc. litter trays, beds and bowls) are cleaned daily with pet safe DEFRA approved disinfectants and receive a deep clean before and after your cats stay.
Your cat's vaccinations must be up to date and recorded in their vaccination certificate.
Please bring this with you or we will not be able to accept your cat for boarding. Please visit our Contact page tab for more information and a PFD Download of our full Terms and Conditions.
Your Cat's Chariot Awaits
We are situated in a rural location and appreciate that some of our customers may not be able to reach us. Therefore, we provide a collection and drop off service. Please see our Tariff tab for more information or Contact us to discuss your requirement.